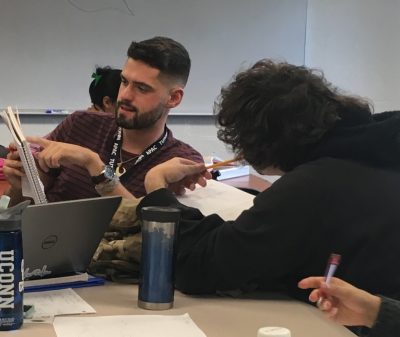 What kinds of help can I get in the Academic Center?
In addition to covering most first-year courses and several upper-level courses, we can also help with most PeopleSoft, HuskyCT, and NetID questions. We offer tutoring, a place to study, workshops, and help with exam preparation. We also have computers loaded with class software.

Can I just come in to study or do homework or use a computer?
Absolutely. For students who want distraction-free study, the second floor of the Library provides a good alternative. Additional quiet study space is available on the second floor of the Community and Professional Building (across from 208), and the Oak Room (in the Branford House), when it is not in use.
Can I work with a group?
Yes, in fact we think that studying with a group in math and science classes can be particularly useful.  We can help you set up a new study group or let you know of ones that are already available.
Can I get one-on-one tutoring?
Yes. We recommend that you make an appointment by visiting our online schedule at uconn.mywconline.net to set up a profile and schedule appointments. You may also stop in at the Academic Center (ACD 107), or calling us at (860) 405-9058 to request an appointment. We will ask you for contact information and the particular subject/topic for which you're coming in. Bring in whatever materials you have that are relevant, such as your assignment, the text you're studying, and any work you've done so far, as similar topics are approached differently in some classes. Up-to-date tutoring schedule information is available during the regular semesters at our Schedule and Contact Information page. 
What classes can I get tutoring in?
We can provide tutoring help for most first-year classes and many upper-level classes. We can also help with all writing projects, whether you're working with English as a second language, you'd like someone to give you feedback on your creative writing, or you're concerned about an advanced project for a capstone course. You can find more specific information at our Schedule and Contact Information page.
What happens at a tutoring session?
You'll meet with a tutor for about 45 minutes to discuss the question(s) that you're bringing in about a particular project.  Tutors will help you with whatever you're concerned about, but they can't replace any teaching that you've missed or take any responsibility for your work. Writing sessions will often involve talking through the main arguments of the paper before reading the sentences you've written. Q sessions focus on problem-solving applications and techniques related to the particular course you're in. General sessions may incorporate discussions about the topic and practice with learning strategies.
When is the Academic Center open?
Our hours are Monday through Thursday from 9:00 a.m. to 6:00 p.m.
Do I need an appointment to come to the Avery Point Academic Center?
No. You're welcome to drop in or stop by to use the computers or meet others to study.  If you want one-on-one time with a tutor in a particular subject area, making an appointment is the best way to ensure that.  To make an appointment, visit uconn.mywconline.net or stop in at the Academic Center in ACD 107, or call (860) 405-9058 to request an appointment. 
Will my instructor know I came?
That's up to you. We don't normally tell instructors when a student visits the Academic Center, but if you'd like your instructor to know that you had a tutoring session, just let your tutor know and together you can write a summary of your appointment that can be emailed to your instructor.
Can you help me with a take-home exam?
That depends. We ask instructors to tell us the appropriate levels of assistance that we can provide, so whether we can help you on projects like take-home exams or specific homework is governed by the particular instructor guidelines for that course.
Can I get online tutoring?
The Avery Point Academic Center does not currently offer online tutoring.
Can I drop my paper off with a tutor and pick it up later?
No. Our tutoring style is based on conversation between tutor and tutee, so our tutors don't interact with papers when their writers aren't present. If you feel like you don't have time for a full 45-minute appointment, consider selecting the part of your paper you're most worried about and sit down for a shorter session.
How are tutors chosen to work in the Academic Center?
Tutors are typically Avery Point students who have been recommended by one of their instructors or who are themselves interested in working in the Academic Center because of immediate or future goals (great campus job; desire to brush up on basic quantitative, reading and writing skills; or interests in teaching, counseling, research). We invite applications after the midterm of each academic semester, once students know their class schedule for the semester for which they're applying. 
Where can I find a quiet place to study?
The second floor of the library has some excellent quiet study space. Additional quiet study space is available on the second floor of the Community and Professional Building (across from 208), and in the Oak Room (in the Branford House), when it is not in use.
What computers can I use?
The computers in ACD 107 (the Academic Center) are dedicated student computers loaded with the same software used in the computer classroom. The Academic Center also has printing services that are self-serve payment via using the Husky One-Card. As with all UConn printing (standardized through all campuses) printing is 10¢ a page.

Where can I scan?
You can scan in the Library, where there is a sheet feeding scanner that scans to email. There is no charge for scanning.
Can I print in color?
Check with the staff in the Library to make color copies. Availability of this service does depend upon staffing, so try to plan ahead if you will need color printing.
Why do I have to pay to print?
You pay 10 cents per black and white page to print for two reasons: the first is to cover costs; the second is to cut down on wasteful or excessive printing. We found that once we, like our other UConn campus counterparts, started charging, we shortened student waits for printing in the queue and saved significant amounts of paper and toner (good for the environment as well as our budget).
Do you give workshops?
Yes. We bring workshops into the classroom, but we can also offer them outside of class in the Academic Center; just let us know what you need.  For a list of current available workshops, go to our workshop page.