The main Academic Center contact number is (860) 405-9058. You may call this number to make tutoring appointments, cancel or change an existing appointment, or to contact a tutor on duty.
Rebecca Troeger (Academic Center Coordinator), can be reached at (860) 405-9201.
The Academic Center is open Monday-Thursday from 9am-6pm when classes are in session. Below is a schedule of when tutoring is available by subject during the Spring semester.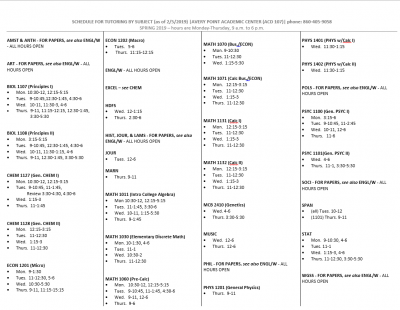 If you need help with your studies, come on down!
Please call 860-405-9058 or drop by ACD 107 to schedule an appointment.