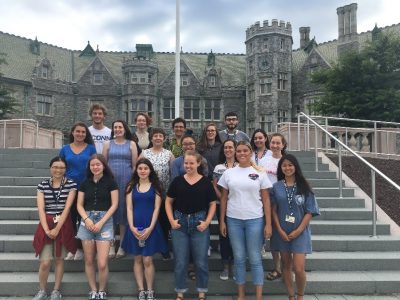 The main Academic Center contact number is (860) 405-9058. You may call this number to make tutoring appointments, cancel or change an existing appointment, or to contact a tutor on duty.
However, due to the Distance Learning response to COVID-19, the above contact number will be unavailable for the duration of the Spring 2020 semester.
You may also register with our new online scheduling system, WCOnline, to make, reschedule, or cancel your own appointments!
Rebecca Troeger (Academic Center Coordinator), can be reached at (860) 405-9201. For the duration of the Spring 2020 Distance Learning response to COVID-19, Rebecca Troeger can be reached by email at rebecca.troeger@uconn.edu.
The Academic Center is open Monday-Thursday from 9am-6pm when classes are in session. To see the times certain tutors or subjects are available, visit WCOnline to view our schedule and select the specific subject you need help with in the drop-down menu as shown below.

If you need help with your studies, come on down!
Please call 860-405-9058, register at WCOnline, or drop by ACD 107 to schedule an appointment.