Availability
If classes switch to online learning, is the Avery Point Academic Center open?  
In the event that Avery Point classes switch to online learning, the Academic Center will offer all of our services online until in-person classes resume. Our hours are Monday through Thursday, 9am to 6pm. You can check our schedule and make an appointment at uconn.mywconline.net while UConn courses are online, and in ACD 107 when we return to campus. 
Do you offer tutoring during the Summer and Winter sessions? 
The Avery Point Academic Center is not open during the Summer and Winter sessions at this time. 
Can I meet with a tutor in person?  
The Academic Center offers several in-person services, including one-on-one tutoring, group tutoring, group review sessions, accountability sessions, and a study space, among others. However, in the event that the Avery Point campus switches to online learning, you can reserve both synchronous and non-synchronous tutoring online. 
Do I need an appointment to come to the Avery Point Academic Center? 
For in-person tutoring, you do not need an appointment. Walk-ins are welcome! Online appointments will need to be booked in advance, and can be booked as late as 15 minutes prior to the start of the session. To make an appointment, visit uconn.mywconline.net. 
Can I book weekly sessions with a tutor? 
Individuals may book appointments up to two weeks in advance. If you'd like to have recurring weekly sessions, reserve your first two, and then you and the tutor can decide if the regular sessions work for you. 
Who is eligible to use the Avery Point Academic Center's services? 
All students enrolled in courses at the University of Connecticut are eligible to book an appointment at the Avery Point Academic Center. However, our tutors are most familiar with the Avery Point courses and professors. If you are looking for assistance with a course from another campus, we suggest you look into the services they provide. 
What can I do if there is no tutor for the class or subject I need?  
If we do not have an available tutor for the specific class or subject you need, please contact AveryPointAcademicCenter@uconn.edu to ask about alternative options. 
---
What We Do
What kinds of help can I get from the Academic Center? 
We offer online and in-person tutoring support for most of the subjects taught at Avery Point; writing in all disciplines; accountability sessions to keep you focused, organized, and on track; workshops in topics within writing and in study skills; group review sessions in Q subjects; and help with exam preparation. If you're not available when we are, we offer non-synchronous support. We can also help you with HuskyCT and other UConn online systems. Also, our website has a page devoted to online resources which you may find of use in a pinch. 
What happens in a tutoring session? 
You'll meet with a tutor for about 45 minutes to discuss the question(s) that you're bringing in about a particular project. Tutors will help you with whatever you're concerned about, but they can't replace any teaching that you've missed. Writing sessions will often involve talking through the main arguments of the paper before reading what you've written. Q (math, statistics, chemistry, and physics) sessions focus on problem-solving applications and techniques related to the particular course you're in. General sessions may incorporate discussions about the topic and practice with learning strategies. 
Can I send my paper in and get feedback later? 
Yes. If you sign up for an eTutoring appointment on uconn.mywconline.net, you can share your paper and assignment with a selected tutor. The tutor will look over your paper and write back to you with suggestions and questions that will help guide you as you revise. However, tutors are not editors, and will not correct or rewrite your paper for you. 
Where can I find support for Q courses? 
The APAC offers both synchronous and asynchronous support for Q courses. Synchronous support can come from a scheduled online or in person one-on-one tutoring session, or from joining our weekly review sessions. For asynchronous support, questions about Q courses can be asked on our Discord server. Click here to learn more. 
Can I work with a group? 
Yes! We believe that studying with a group in math and science classes can be particularly useful. We can help you set up a new study group or let you know of ones that are already available. We also run a weekly group review in chemistry and math. Our chemistry review sessions are on Tuesdays at 9:00-11:00 AM and Wednesdays at 12:30-2:30 PM. Our math review sessions are on Mondays at 1:00-2:00 PM and Tuesdays at 3:30-4:30 PM. You can join in ACD 107. 
Which classes do you support? 
We can provide tutoring help for most first-year classes and many upper-level classes. We can also help with all writing projects, whether you're working with English as a second language, you'd like someone to give you feedback on your creative writing, you're working on a lab report, or you're concerned about an advanced project for a capstone course. To see a current list of all the courses we support, go to our schedule at uconn.mywconline.net, click on "Limit To" at the top, and you'll see a drop-down list of supported courses. For help in writing, choose "Writing" in the drop-down list. 
How long does a tutoring appointment have to be?  
Tutoring appointments run for a minimum period of 30 minutes and a maximum period of one hour. If you need support on a topic but do not have the time for an appointment, please consider one of our asynchronous tutoring options for support. 
Can you help me with a take-home exam? 
Only with explicit permission from the instructor. 
I'm teaching a class at Avery Point. Can you come to my classroom? 
Yes. We can present workshops in a variety of subjects in the classroom, and we can also offer them outside of class in the Academic Center; just let us know what you need. We can also schedule a tutor to be available to assist your students with their in-class activities, or set aside a block of time for your students to come to the Academic Center to work with tutors. For a list of current available workshops, go to our workshop page. For all of these workshops, we will work with you to tailor them to your course goals and methods. 
---
Appointments
How do I make an appointment? 
We make appointments using WCOnline. Click on an available (white) schedule tile corresponding to the time you want to meet for an appointment. You can filter tutors by subject using the "Limit To" option at the top of the page. 
Can I get one-on-one tutoring? 
Yes. You can make an appointment by visiting our online schedule to set up a profile and schedule appointments. We will ask you for contact information and the subject/topic for which you're seeking help. We ask that you share relevant materials such as assignments and paper drafts to help your tutor prepare. The more information you can provide about your work and your goals for the session, the more productive the session can be. 
What is the difference between an eTutoring appointment and an Online appointment?  
When you make an appointment, you'll see options for "Online tutoring," "Face-to-face tutoring," and "eTutoring." An online appointment is a video chat where you meet with your tutor at a designated time to work on specific assignments or goals. An eTutoring appointment is non-synchronous support. You may upload any assignments or questions you have for the tutor, and they will send you feedback during the designated time slot. 
Will my instructor know that I came in? 
That's up to you. If you'd like your instructor to know that you had a tutoring session, just let your tutor know. Together, you can write a summary of your appointment to be emailed to your instructor. Instructors will not receive reports on your tutoring sessions without your permission. 
How do I cancel an appointment? 
To cancel an appointment, go to uconn.mywconline.net and select your appointment. A cancel option can be found on the bottom right of the existing appointment pop-up. We appreciate you doing this in order to keep tutors' time as available as possible for other students. 
What happens if my appointment is canceled by the Academic Center?  
Occasionally, we cancel appointments due to unforeseen schedule changes. In these instances, we will book you for an appointment with another available tutor for that same time block and email you to let you know. If no tutor is available, we will work with you via email to determine an alternative time. 
I have a simple question; do I need to book a full appointment? 
If you have a simple question, for Q subjects, you can post on our Discord server and a tutor will respond when they're available. For all other questions, you can email AveryPointAcademicCenter@uconn.edu and someone will get back to you within 24 hours. Alternatively, you can check our resources page to see if a solution has already been posted. 
What's the cost of a tutoring session? 
All Academic Center services are free to UConn students. Tutoring is a service provided by the university.
---
Campus Amenities
Where can I find a quiet place to study?
The second floor of the library has some excellent quiet study space. Additional quiet study space is available on the second floor of the Community and Professional Building (across from 208), and in the Oak Room (in the Branford House), when it is not in use.
---
Jobs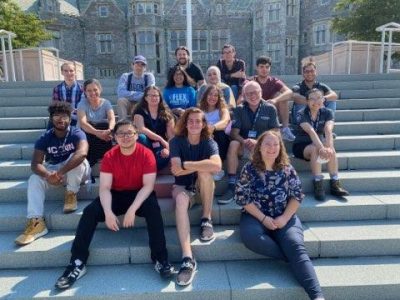 How are tutors chosen to work in the Academic Center? 
Tutors are typically Avery Point students who have been recommended by their instructors, or who are themselves interested in working here because of immediate or future goals (great campus job; desire to brush up on basic quantitative, reading and writing skills; interests in teaching, counseling, and research). You can apply at studentjobs.uconn.edu or contact sarah.shea@uconn.edu for more information. 
How can I become a tutor at the Avery Point Academic Center?  
Apply online today at studentjobs.uconn.edu, or contact sarah.shea@uconn.edu for more information.